Spock Ears Kid

General
Nickname(s)

Spock Ears Kid

Gender

Male

Birthdate
Resides In

Louisiana

Relationships
Siblings
Appearance
Eye Color

Blue

Hair Color

Blonde

Production
Season(s)
First Seen
Last Seen
Portrayed By
Spock Ears Kid
is a guest character on the series
Haunted Hathaways
.
Personality
Spock Ears Kid is a student at Kirschener High School. He is weird kid who goes about wearing green colored Spock ears from Star Trek.
Trivia
Has won every science fair competition
Goes around wearing green Spock Ears
Was a cast member in Michelle's play.
Only appears in one episode in Season 2.
Appearances
Season 1
Season 2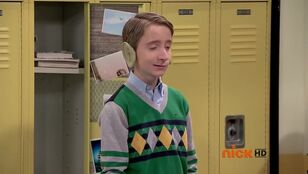 Ad blocker interference detected!
Wikia is a free-to-use site that makes money from advertising. We have a modified experience for viewers using ad blockers

Wikia is not accessible if you've made further modifications. Remove the custom ad blocker rule(s) and the page will load as expected.