Home
Talk

0
96pages on
this wiki
Welcome to Haunted Hathaways Wiki
The wiki about The Haunted Hathaways! that anyone can edit
96 articles since April 22, 2012
Please read the Site Policy before you start editing!
The Haunted Hathaways?
"The Haunted Hathaways" centers on a single mother named Michelle Hathaway and her two daughters Taylor and Frankie, ages 12 and 8 respectively. After Michelle goes through a divorce, she moves her family from New York City to New Orleans and opens a bakery, only to discover a family of three already living in the house that they move into. Single father Ray Preston and his two sons Miles and Louie, ages 13 and 9 respectively, are very proud of this home because it is where the boys were born and where they have spent their entire lives and afterlives! Yes, the Prestons are ghosts, and together with the Hathaways become The Brady Bunch with a supernatural twist.
News Feed
Featured Episode
Featured Episode
Haunted Kids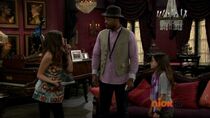 An argument between Ray and Michelle causes them to each think they're the better parent so they decide to switch roles. Lo and behold, Michelle is unable to wrangle the boys and Ray is completely thrown by the intricacies of girl social antics.. (Read more...)
---

Featured Character
Taylor Hathaway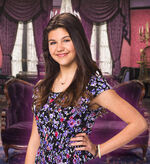 Taylor is an upbeat, friendly girl with a passion for gymnastics. She is very kind, but she is also a bit sarcastic, sort of like Louie. At first, Taylor immediately dislikes Miles and Louie, but after Miles helps Taylor out with getting the gymnastics team to like her, they become friends and Taylor realizes that Miles and his family are not just a bunch of ghosts, but that they are good people. (Read more...)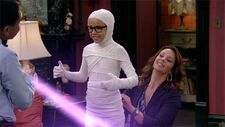 Haunted Play aired on:
October 5, 2013.
When Michelle directs the school play, Frankie fakes an injury to get out of acting in it and Louie fills in until everyone thinks he's great and then Frankie gets jealous. Meanwhile, Taylor and Miles watch the Bakery..
(Read more...)
---
Blog Posts
Create blog post
Latest Blog Posts
I joined this wiki for fun mostly, and so I can get some point of talking with you guys about the H…

Read more >

Hi i'm a users of Haunted Nightmare that will be fun if more members users come to this wiki. http:…

Read more >
See more >
Poll of the Month
Who is your favorite character?