Home
Talk

0
120pages on
this wiki
Welcome to Haunted Hathaways Wiki
The wiki about The Haunted Hathaways! that anyone can edit
120 articles since April 22, 2012
Please read the Site Policy before you start editing!
The Haunted Hathaways?
"The Haunted Hathaways" centers on a single mother named Michelle Hathaway and her two daughters Taylor and Frankie, ages 12 and 8 respectively. After Michelle goes through a divorce, she moves her family from New York City to New Orleans and opens a bakery, only to discover a family of three already living in the house that they move into. Single father Ray Preston and his two sons Miles and Louie, ages 13 and 9 respectively, are very proud of this home because it is where the boys were born and where they have spent their entire lives and afterlives! Yes, the Prestons are ghosts, and together with the Hathaways become The Brady Bunch with a supernatural twist.
News Feed
Featured Episode
Featured Episode
Haunted Crushing
Frankie comes up with a scheme involving a teen heartthrob to get Taylor to cancel her plans and spend crazy cakes day with her instead. (Read more...)
---

Featured Character
Frankie Hathaway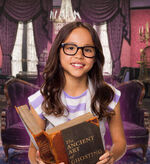 Frankie is Taylor's eccentric younger sister and the younger daughter of Michelle Hathaway. She dosen't seem to be scared by Louie, Ray, or Miles, unlike her older sister. She particularly likes things that are spooky, like Louie's headless boy trick and the dead bird on their piano. She seems to like Louie, and thinks he's awesome. (Read more...)
Latest Episode
Spring 2014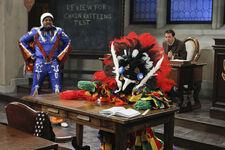 Haunted Secret Agent aired on:
March 22, 2014.
Louie makes up a story about Ray's occupation on parent career day at his ghost school.
(Read more...)
---
Blog Posts
Create blog post
Latest Blog Posts
I joined this wiki for fun mostly, and so I can get some point of talking with you guys about the H…

Read more >

Hi i'm a users of Haunted Nightmare that will be fun if more members users come to this wiki. http:…

Read more >
See more >
Poll of the Month
Who is your favorite character?